Use of farmers' indicators to evaluate the sustainability of cropping systems on sloping land in Yunnan Province, China.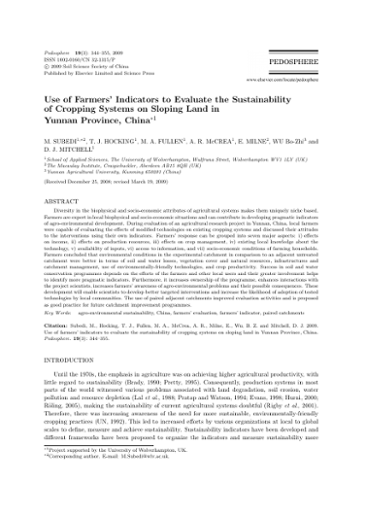 Name:
Farmers' indicator - PEDOSPHERE ...
Size:
2.264Mb
Format:
PDF
Description:
Subedi Pedosphere 2009(1)
Abstract
Diversity in the biophysical and socio-economic attributes of agricultural systems makes them uniquely niche based. Farmers are expert in local biophysical and socio-economic situations and can contribute in developing pragmatic indicators of agro-environmental development. During evaluation of an agricultural research project in Yunnan, China, local farmers were capable of evaluating the effects of modified technologies on existing cropping systems and discussed their attitudes to the interventions using their own indicators. Farmers' response can be grouped into seven major aspects: i) effects on income, ii) effects on production resources, iii) effects on crop management, iv) existing local knowledge about the technology, v) availability of inputs, vi) access to information, and vii) socio-economic conditions of farming households. Farmers concluded that environmental conditions in the experimental catchment in comparison to an adjacent untreated catchment were better in terms of soil and water losses, vegetation cover and natural resources, infrastructures and catchment management, use of environmentally-friendly technologies, and crop productivity. Success in soil and water conservation programmes depends on the efforts of the farmers and other local users and their greater involvement helps to identify more pragmatic indicators. Furthermore, it increases ownership of the programme, enhances interactions with the project scientists, increases farmers' awareness of agro-environmental problems and their possible consequences. These development will enable scientists to develop better targeted interventions and increase the likelihood of adoption of tested technologies by local communities. The use of paired adjacent catchments improved evaluation activities and is proposed as good practice for future catchment improvement programmes.
Citation
Pedosphere, 19(3): 60125-60129
ae974a485f413a2113503eed53cd6c53
10.1016/S1002-0160(09)60125-9
Scopus Count
Collections