SARS-CoV-2 vaccination for patients with inflammatory bowel disease: a British Society of Gastroenterology Inflammatory Bowel Disease section and IBD Clinical Research Group position statement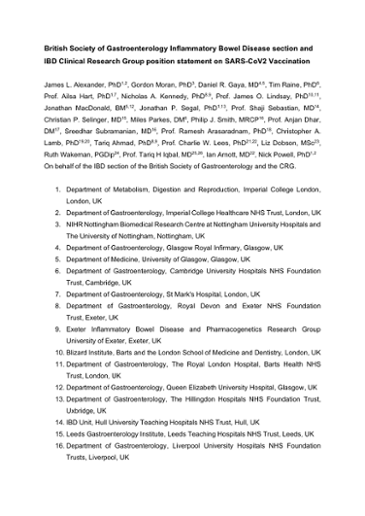 Name:
Alexander_et_al_SARS-Cov-2_vac ...
Size:
764.5Kb
Format:
PDF
Your vote was cast
Thank you for your feedback
Abstract
SARS-CoV-2 has caused a global health crisis and mass vaccination programmes provide the best opportunity for controlling transmission and protecting populations. Despite the impressive clinical trial results of the BNT162b2 (Pfizer/BioNTech), ChAdOx1 nCoV-19 (Oxford/AstraZeneca), and mRNA-1273 (Moderna) vaccines, important unanswered questions remain, especially in patients with pre-existing conditions. In this position statement endorsed by the British Society of Gastroenterology Inflammatory Bowel Disease (IBD) section and IBD Clinical Research Group, we consider SARS-CoV-2 vaccination strategy in patients with IBD. The risks of SARS-CoV-2 vaccination are anticipated to be very low, and we strongly support SARS-CoV-2 vaccination in patients with IBD. Based on data from previous studies with other vaccines, there are conceptual concerns that protective immune responses to SARS-CoV-2 vaccination may be diminished in some patients with IBD, such as those taking anti-TNF drugs. However, the benefits of vaccination, even in patients treated with anti-TNF drugs, are likely to outweigh these theoretical concerns. Key areas for further research are discussed, including vaccine hesitancy and its effect in the IBD community, the effect of immunosuppression on vaccine efficacy, and the search for predictive biomarkers of vaccine success.
Journal
The Lancet Gastroenterology and Hepatology
PubMed ID
33508241 (pubmed)
Description
This is an accepted manuscript of an article published by Elsevier on 25/01/2021, available online: https://doi.org/10.1016/S2468-1253(21)00024-8 The accepted version of the publication may differ from the final published version.
Sponsors
CAL acknowledges support from the NIHR Newcastle Biomedical Research Centre. JLA and NP acknowledge funding from the National Institute of Health Research (NIHR) Biomedical Research Centre (BRC) based at Imperial College London and Imperial College Healthcare NHS Trust. JLA is the recipient of a NIHR Academic Clinical Lectureships. JLA receives funding for his Clinical Lectureship from Imperial College London and The Freed Foundation.
ae974a485f413a2113503eed53cd6c53
10.1016/S2468-1253(21)00024-8
Scopus Count
Collections
Except where otherwise noted, this item's license is described as https://creativecommons.org/licenses/by-nc-nd/4.0/
Related items
Showing items related by title, author, creator and subject.
Inflammatory bowel disease patient‐reported quality assessment should drive service improvement: A national survey of UK IBD units and patients

Hawthorne, A Barney; Glatter, Jackie; Blackwell, Jonathan; Ainley, Rachel; Arnott, Ian; Barrett, Kevin J; Bell, Graham; Brookes, Matthew; Fletcher, Melissa; Muhammed, Rafeeq; et al. (

Wiley

,

2022-06-01

)

Background & Aims Healthcare service provision in inflammatory bowel disease (IBD) is often designed to meet targets set by healthcare providers rather than those of patients. It is unclear whether this meets the needs of patients, as assessed by patients themselves. This nationwide study assessed patients' experience of IBD and the healthcare they received, aiming to identify factors in IBD healthcare provision associated with perceived high-quality care. Methods Using the 2019 IBD Standards as a framework, a national benchmarking tool for quality assessment in IBD was developed by IBD UK, comprising a Patient Survey and Service Self-Assessment. Results In all, 134 IBD services and 9757 patients responded. Perceived quality of care was lowest in young adults then increased with age, was higher in males and those >2 years since diagnosis. No hospital services met all the National IBD Standards for recommended workforce numbers. Key metrics associated with patient-reported high-quality care were as follows: identification as a tertiary centre, patient information availability, shared decision-making, rapid response to contact for advice, access to urgent review, joint medical/surgical clinics and access to research (all p < 0.001). Higher numbers of IBD nurse specialists in a service was strongly associated with patients receiving regular reviews and having confidence in self-management and reporting high-quality care. Conclusions This extensive patient and healthcare provider survey emphasises the importance of aspects of care less often measured by clinicians, such as communication, shared decision-making and provision of information, and demonstrates that IBD nurse specialists are crucial to meeting the needs of people living with IBD.

Prospective study of immunological factors in non-inflammatory bowel disease enterocutaneous fistulas

Rahbour, G; Hart, AL; Al-Hassi, HO; Ullah, MR; Gabe, SM; Knight, SC; Warusavitarne, J; Vaizey, CJ; Colorectal and Intestinal Failure Surgery, St, Mark's Hospital and Academic Institute Watford Road, Harrow, Middlesex, HA1 3UJ, UK. g.rahbour10@imperial.ac.uk (

Springer Science and Business Media LLC

,

2011-05-27

)

Background: Enterocutaneous fistulas (ECF) are debilitating and usually result following complex abdominal surgery. While there is an association with inflammatory bowel disease (IBD), a large number of fistulas occur after surgery not related to IBD. The consequences of ECF include short bowel syndrome and the need for long term parenteral nutrition. ECF can heal spontaneously and in the case of IBD can be cured by medical therapy in some instances. Those that do not resolve spontaneously have to be cured by surgery which is complex and associated with a high morbidity. It is not considered traditional treatment to use the same medical therapy as in IBD to cure ECF caused by other conditions. A small case series has reported three patients with persistent ECF not related to IBD to have healed following use of Infliximab which is the treatment commonly used for ECF caused by IBD. Infliximab acts by inhibiting the activity of the inflammatory cytokine TNF- alpha. It is not known if this cytokine is present in ECF tissue in the absence of IBD. The aim of this study is to demonstrate the presence of inflammatory markers in tissue surrounding non-IBD ECF and in particular to quantify the presence of the cytokine TNF- alpha. We hypothesise that TNF - alpha levels are raised in non-IBD ECF. Methods/Design. Tissue and serum from ECF of IBD and non-IBD patients will be prospectively collected at St. Mark's Hospital Intestinal Failure Unit. The control group will consist of patients undergoing colonoscopy for bowel cancer screening, with normal findings. Biopsies of the terminal ileum will be obtained from this group during colonoscopy. The fistula tract and serum cytokine profiles of interleukins (IL)-1a, IL-1b, IL-2, IL-4, IL-6, IL-8, IL-10, TNF- alpha, IFN-y, MCP-1, EGF and VEGF will be assessed. Discussion. This study aims to assess the presence or absence of TNF- alpha expression in the ECF tissue in non-IBD origin. If our hypothesis is correct we would then be able to study the use of the TNF- alpha inhibitor Infliximab as a therapeutic option in the treatment of non-IBD ECF. Secondary aims include assessing the spectrum of inflammatory cytokines and markers present in tissue and serum of non-IBD ECF when compared with IBD ECF and normal controls. © 2011 Rahbour et al; licensee BioMed Central Ltd.

British Society of Gastroenterology consensus guidelines on the management of inflammatory bowel disease in adults

Lamb, CA; Kennedy, NA; Raine, T; Hendy, PA; Smith, PJ; Limdi, JK; Hayee, B; Lomer, MCE; Parkes, GC; Selinger, C; et al. (

BMJ

,

2019-09-27

)

© Author(s) (or their employer(s)) 2019. Re-use permitted under CC BY-NC. No commercial re-use. See rights and permissions. Published by BMJ. Ulcerative colitis and Crohn's disease are the principal forms of inflammatory bowel disease. Both represent chronic inflammation of the gastrointestinal tract, which displays heterogeneity in inflammatory and symptomatic burden between patients and within individuals over time. Optimal management relies on understanding and tailoring evidence-based interventions by clinicians in partnership with patients. This guideline for management of inflammatory bowel disease in adults over 16 years of age was developed by Stakeholders representing UK physicians (British Society of Gastroenterology), surgeons (Association of Coloproctology of Great Britain and Ireland), specialist nurses (Royal College of Nursing), paediatricians (British Society of Paediatric Gastroenterology, Hepatology and Nutrition), dietitians (British Dietetic Association), radiologists (British Society of Gastrointestinal and Abdominal Radiology), general practitioners (Primary Care Society for Gastroenterology) and patients (Crohn's and Colitis UK). A systematic review of 88 247 publications and a Delphi consensus process involving 81 multidisciplinary clinicians and patients was undertaken to develop 168 evidence- and expert opinion-based recommendations for pharmacological, non-pharmacological and surgical interventions, as well as optimal service delivery in the management of both ulcerative colitis and Crohn's disease. Comprehensive up-to-date guidance is provided regarding indications for, initiation and monitoring of immunosuppressive therapies, nutrition interventions, pre-, peri- and postoperative management, as well as structure and function of the multidisciplinary team and integration between primary and secondary care. Twenty research priorities to inform future clinical management are presented, alongside objective measurement of priority importance, determined by 2379 electronic survey responses from individuals living with ulcerative colitis and Crohn's disease, including patients, their families and friends.