Fused deposition modelling: Current status, methodology, applications and future prospects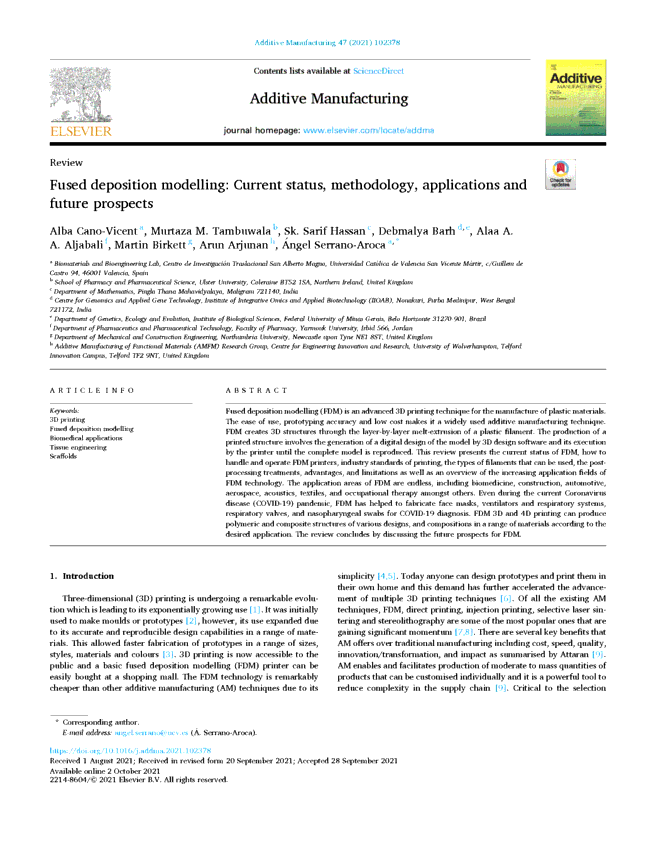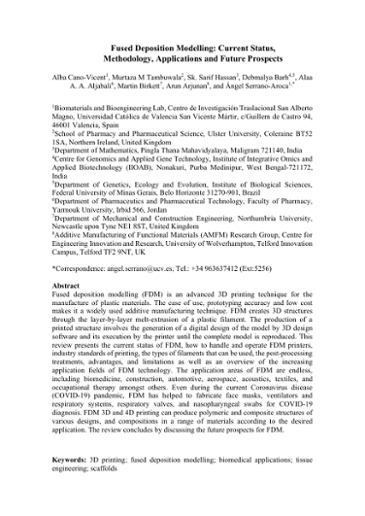 Name:
Cano-Vicent_Fused_Deposition_M ...
Size:
1.633Mb
Format:
PDF
Your vote was cast
Thank you for your feedback
Abstract
Fused deposition modelling (FDM) is an advanced 3D printing technique for the manufacture of plastic materials. The ease of use, prototyping accuracy and low cost makes it a widely used additive manufacturing technique. FDM creates 3D structures through the layer-by-layer melt-extrusion of a plastic filament. The production of a printed structure involves the generation of a digital design of the model by 3D design software and its execution by the printer until the complete model is reproduced. This review presents the current status of FDM, how to handle and operate FDM printers, industry standards of printing, the types of filaments that can be used, the post-processing treatments, advantages, and limitations as well as an overview of the increasing application fields of FDM technology. The application areas of FDM are endless, including biomedicine, construction, automotive, aerospace, acoustics, textiles, and occupational therapy amongst others. Even during the current Coronavirus disease (COVID-19) pandemic, FDM has helped to fabricate face masks, ventilators and respiratory systems, respiratory valves, and nasopharyngeal swabs for COVID-19 diagnosis. FDM 3D and 4D printing can produce polymeric and composite structures of various designs, and compositions in a range of materials according to the desired application. The review concludes by discussing the future prospects for FDM.
Citation
Can-Vicent, A., Tambuwala, M.M., Hassan, Sk.S. et al. (2021) Fused deposition modelling: Current status, methodology, applications and future prospects. Additive Manufacturing, 47, 102378.
Journal
Additive Manufacturing
Description
This is an accepted manuscript of an article published by Elsevier in Additive Manufacturing on 02/10/2021, available online: https://doi.org/10.1016/j.addma.2021.102378 The accepted version of the publication may differ from the final published version.
ae974a485f413a2113503eed53cd6c53
10.1016/j.addma.2021.102378
Scopus Count
Collections
Except where otherwise noted, this item's license is described as https://creativecommons.org/licenses/by-nc-nd/4.0/