Measuring community disaster resilience at local levels: An adaptable resilience framework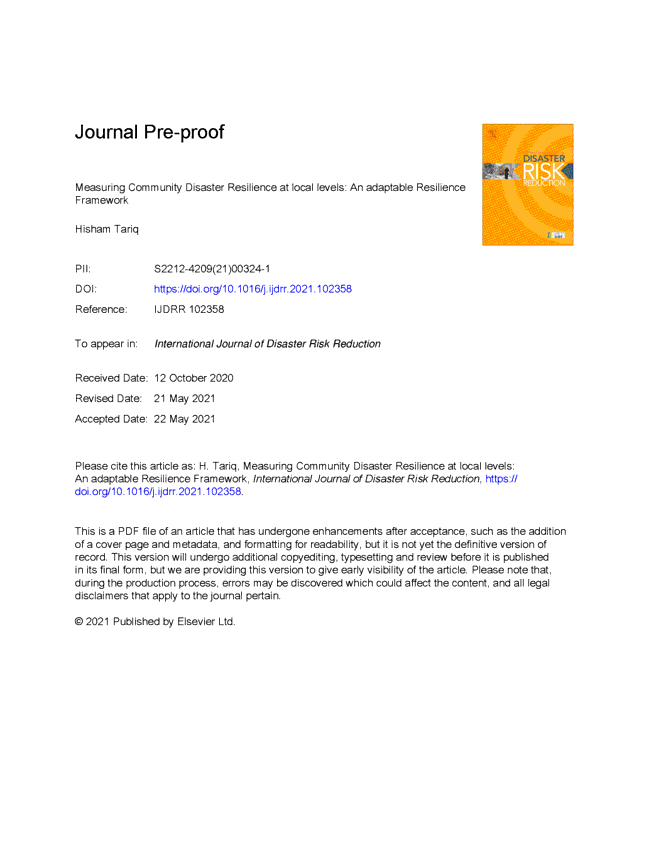 Name:
Tariq_et_al_Measuring_communit ...
Size:
6.166Mb
Format:
PDF
Your vote was cast
Thank you for your feedback
Abstract
Decision makers, practitioners and community members need to assess the disaster resilience of their communities and to understand better the risks they face from natural hazards. There is a lack of consensus on what resilience means and how it can be measured as each stakeholder potentially brings a different perspective to understanding community disaster resilience. The paper will identify the key features and characteristics of Community Disaster Resilience (CDR) frameworks from the literature to develop a resilience framework that can be adapted and customised according to stakeholder needs. The paper used a 5-step process to develop an adaptable CDR framework. First, a review of 36 resilience frameworks was conducted to identify key features and characteristics of resilience frameworks. In Steps 2 and 3, a matrix of indicators and measures was populated by resilience dimensions covered in the current CDR literature reviewed. Subsequently, the indicators were sorted for similarities and duplicates were removed. Finally, they were clustered by six critical resilience dimensions (i.e. Physical, Health, Economic, Environmental, Social and Governance) into a library of 86 resilience indicators (composed of 360 measures) that can be used to operationalize a CDR framework according to the needs of the stakeholders. The review indicated that majority of the articles selected use objective approaches to measure resilience showing a gap for more frameworks using subjective, or participatory, approaches to measuring community resilience. An adaptable CDR framework may make resilience assessment more grounded in local stakeholder perspectives and lead to a better understanding of community resilience.
Citation
Tariq, H., Pathirage, C. and Fernando, T. (2021) Measuring community disaster resilience: an adaptable resilience framework. International Journal of Disaster Risk Reduction, 2021, 102358.
Journal
International Journal of Disaster Risk Reduction
Description
© 2021 The Authors. Published by Elsevier. This is an open access article available under a Creative Commons licence. The published version can be accessed at the following link on the publisher's website: https://doi.org/10.1016/j.ijdrr.2021.102358
Sponsors
The authors express their gratitude to the Global Challenges Research Fund (GCRF) and the Engineering and Physical Sciences Research Council (EPSRC) for the financial support under the International Grant, EP/PO28543/1, entitled "A Collaborative Multi Agency Platform for Building Resilient Communities".
ae974a485f413a2113503eed53cd6c53
10.1016/j.ijdrr.2021.102358
Scopus Count
Collections
Except where otherwise noted, this item's license is described as https://creativecommons.org/licenses/by/4.0/