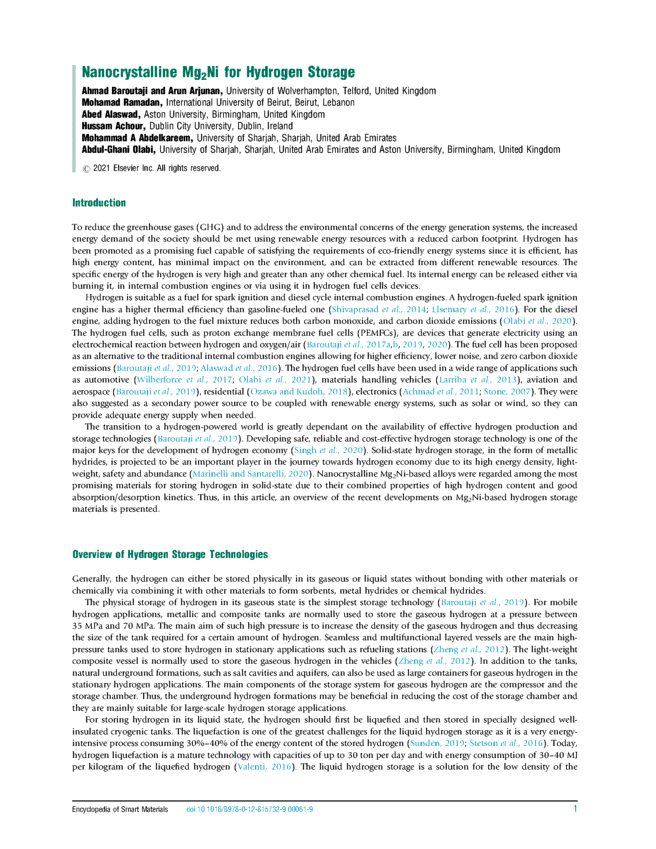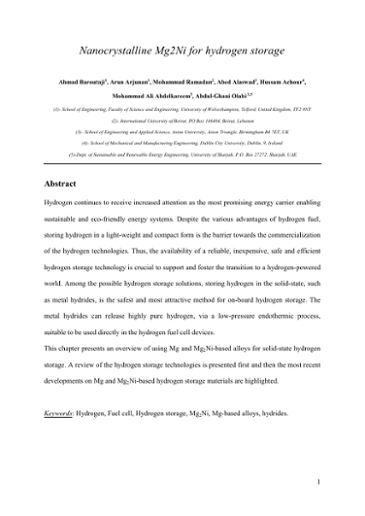 Name:
Baroutaji et al-Nanocrystalline ...
Size:
315.0Kb
Format:
PDF
Abstract
Hydrogen continues to receive increased attention as the most promising energy carrier enabling sustainable and eco-friendly energy systems. Despite the various advantages of hydrogen fuel, storing hydrogen in a light-weight and compact form is the barrier towards the commercialization of the hydrogen technologies. Thus, the availability of a reliable, inexpensive, safe and efficient hydrogen storage technology is crucial to support and foster the transition to a hydrogen-powered world. Among the possible hydrogen storage solutions, storing hydrogen in the solid-state, such as metal hydrides, is the safest and most attractive method for on-board hydrogen storage. The metal hydrides can release highly pure hydrogen, via a low-pressure endothermic process, suitable to be used directly in the hydrogen fuel cell devices. This article presents an overview of using Mg and Mg2Ni-based alloys for solid-state hydrogen storage. A review of the hydrogen storage technologies is presented first and then the most recent developments on Mg and Mg2Ni-based hydrogen storage materials are highlighted.
Citation
Baroutaji, A., Arjunan, A., Ramadan, M., Alaswad, A., Achour, H., Abdelkareem, M.A. and Olabi, A. (2021) Nanocrystalline Mg2Ni for hydrogen storage. Reference Module in Materials Science and Materials Engineering 2021.
Description
This is an accepted manuscript of an article published byElsevier in Reference Module in Materials Science and Materials Engineering on 14/12/2020, available online: https://doi.org/10.1016/B978-0-12-815732-9.00061-9 The accepted version of the publication may differ from the final published version
ae974a485f413a2113503eed53cd6c53
10.1016/b978-0-12-815732-9.00061-9
Scopus Count
Collections
Except where otherwise noted, this item's license is described as https://creativecommons.org/licenses/by-nc-nd/4.0/