Can RNAi-mediated hsp90α knockdown in combination with 17-AAG be a therapy for glioma?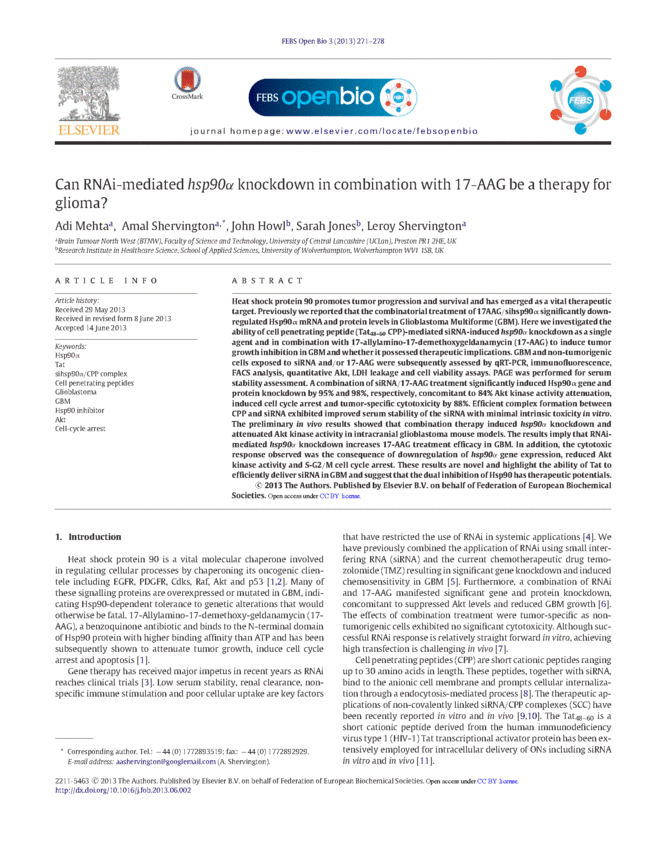 Name:
Can RNAi-mediated hsp90α knockdown ...
Size:
1.270Mb
Format:
PDF
Abstract
Heat shock protein 90 promotes tumor progression and survival and has emerged as a vital therapeutic target. Previously we reported that the combinatorial treatment of 17AAG/sihsp90α significantly downregulated Hsp90α mRNA and protein levels in Glioblastoma Multiforme (GBM). Here we investigated the ability of cell penetrating peptide (Tat48-60 CPP)-mediated siRNA-induced hsp90α knockdown as a single agent and in combination with 17-allylamino-17-demethoxygeldanamycin (17-AAG) to induce tumor growth inhibition in GBM and whether it possessed therapeutic implications. GBM and non-tumorigenic cells exposed to siRNA and/or 17-AAG were subsequently assessed by qRT-PCR, immunofluorescence, FACS analysis, quantitative Akt, LDH leakage and cell viability assays. PAGE was performed for serum stability assessment. A combination of siRNA/17-AAG treatment significantly induced Hsp90α gene and protein knockdown by 95% and 98%, respectively, concomitant to 84% Akt kinase activity attenuation, induced cell cycle arrest and tumor-specific cytotoxicity by 88%. Efficient complex formation between CPP and siRNA exhibited improved serum stability of the siRNA with minimal intrinsic toxicity in vitro. The preliminary in vivo results showed that combination therapy induced hsp90α knockdown and attenuated Akt kinase activity in intracranial glioblastoma mouse models. The results imply that RNAi-mediated hsp90α knockdown increases 17-AAG treatment efficacy in GBM. In addition, the cytotoxic response observed was the consequence of downregulation of hsp90α gene expression, reduced Akt kinase activity and S-G2/M cell cycle arrest. These results are novel and highlight the ability of Tat to efficiently deliver siRNA in GBM and suggest that the dual inhibition of Hsp90 has therapeutic potentials. © 2013 The Authors.
Citation
Mehta, A., Shervington, A., Howl, J., Jones, S. and Shervington, L. (2013) Can RNAi‐mediated hsp90α knockdown in combination with 17‐AAG be a therapy for glioma? FEBS Open Bio, 3(2013), pp. 271-278.
PubMed ID
23905009 (pubmed)
Description
© 2013 The Authors. Published by Wiley. This is an open access article available under a Creative Commons licence. The published version can be accessed at the following link on the publisher's website: https://doi.org/10.1016/j.fob.2013.06.002
Sponsors
This study was supported by a Grant from the Sydney Driscoll Neuroscience Foundation (SDNF) and the School of Pharmacy and Biomedical Sciences (UCLan). The work was also supported by the Estonian Government through the targeted financing SF0180027s08 and the European Regional Development Fund [project Tumor‐Tech (3.2.1001.11–0008)].
ae974a485f413a2113503eed53cd6c53
10.1016/j.fob.2013.06.002
Scopus Count
Collections
Except where otherwise noted, this item's license is described as Licence for published version: Creative Commons Attribution 4.0 International