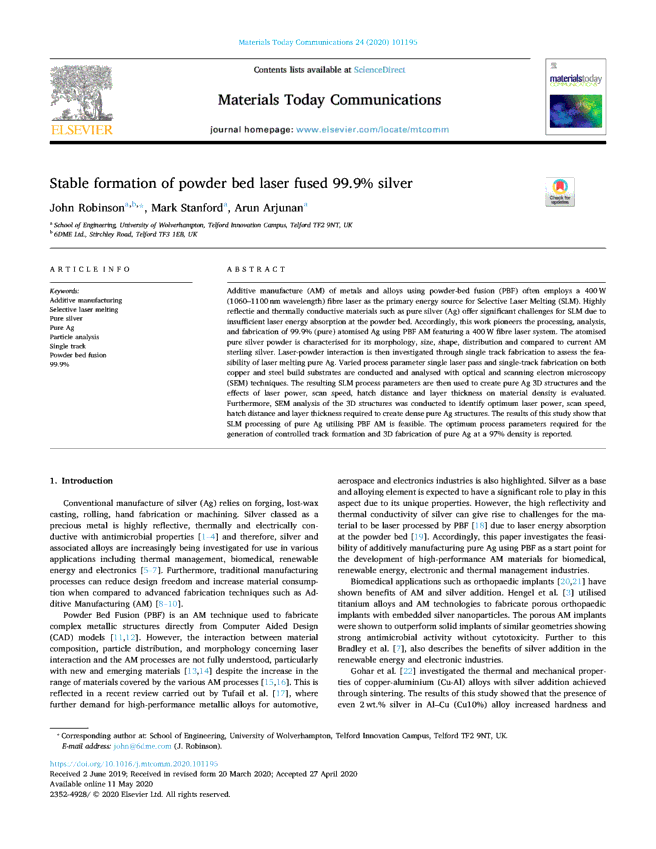 Name:
Robinson_et_al_Stable_formatio ...
Size:
6.157Mb
Format:
PDF
Abstract
Additive manufacture (AM) of metals and alloys using powder-bed fusion (PBF) often employs a 400 W (1060–1100 nm wavelength) fibre laser as the primary energy source for Selective Laser Melting (SLM). Highly reflectie and thermally conductive materials such as pure silver (Ag) offer significant challenges for SLM due to insufficient laser energy absorption at the powder bed. Accordingly, this work pioneers the processing, analysis, and fabrication of 99.9% (pure) atomised Ag using PBF AM featuring a 400 W fibre laser system. The atomised pure silver powder is characterised for its morphology, size, shape, distribution and compared to current AM sterling silver. Laser-powder interaction is then investigated through single track fabrication to assess the feasibility of laser melting pure Ag. Varied process parameter single laser pass and single-track fabrication on both copper and steel build substrates are conducted and analysed with optical and scanning electron microscopy (SEM) techniques. The resulting SLM process parameters are then used to create pure Ag 3D structures and the effects of laser power, scan speed, hatch distance and layer thickness on material density is evaluated. Furthermore, SEM analysis of the 3D structures was conducted to identify optimum laser power, scan speed, hatch distance and layer thickness required to create dense pure Ag structures. The results of this study show that SLM processing of pure Ag utilising PBF AM is feasible. The optimum process parameters required for the generation of controlled track formation and 3D fabrication of pure Ag at a 97% density is reported.
Citation
Robinson, J., Stanford, M. and Arjunan, A. (2020) Stable formation of powder bed laser fused 99.9% silver, Materials Today Communications, 24 (September 2020), 101195.
Journal
Materials Today Communications
Description
This is an accepted manuscript of an article published by Elsevier in Materials Today Communications on 11/05/2020, available online: https://doi.org/10.1016/j.mtcomm.2020.101195 The accepted version of the publication may differ from the final published version.
ae974a485f413a2113503eed53cd6c53
10.1016/j.mtcomm.2020.101195
Scopus Count
Collections
Except where otherwise noted, this item's license is described as https://creativecommons.org/licenses/by-nc-nd/4.0/