Targeted sound attenuation capacity of 3D printed noise cancelling waveguides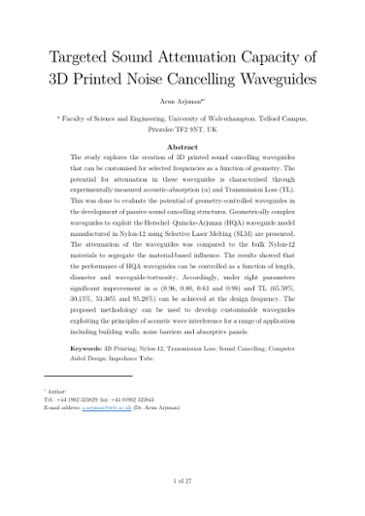 Name:
Targeted sound attenuation ...
Size:
1.883Mb
Format:
PDF
Abstract
The study explores the creation of 3D printed sound cancelling waveguides that can be customised for selected frequencies as a function of geometry. The potential for attenuation in these waveguides is characterised through experimentally measured acoustic-absorption (α) and Transmission Loss (TL). This was done to evaluate the potential of geometry-controlled waveguides in the development of passive sound cancelling structures. Geometrically complex waveguides to exploit the Herschel–Quincke-Arjunan (HQA) waveguide model manufactured in Nylon-12 using Selective Laser Melting (SLM) are presented. The attenuation of the waveguides was compared to the bulk Nylon-12 materials to segregate the material-based influence. The results showed that the performance of HQA waveguides can be controlled as a function of length, diameter and waveguide-tortuosity. Accordingly, under right parameters significant improvement in α (0.96, 0.80, 0.61 and 0.98) and TL (65.59%, 30.15%, 53.36% and 95.28%) can be achieved at the design frequency. The proposed methodology can be used to develop customisable waveguides exploiting the principles of acoustic wave interference for a range of application including building walls, noise barriers and absorptive panels.
Citation
Arjunan, A. (2019) Targeted sound attenuation capacity of 3D printed noise cancelling waveguides, Applied Acoustics, 151, pp.30-44
Journal
Applied Acoustics
Description
This is an accepted manuscript of an article published by Elsevier in Applied Acoustics on 08/03/2019, available online: https://doi.org/10.1016/j.apacoust.2019.03.008 The accepted version of the publication may differ from the final published version.
Sponsors
UK Department for Transport
ae974a485f413a2113503eed53cd6c53
10.1016/j.apacoust.2019.03.008
Scopus Count
Collections
The following licence applies to the copyright and re-use of this item:
Except where otherwise noted, this item's license is described as Attribution-NonCommercial-NoDerivs 3.0 United States