Time constraints imposed by anthropogenic environments alter social behaviour in long-tailed macaques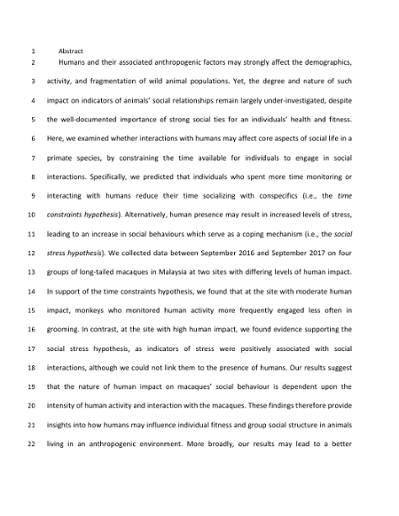 Name:
Time constraints imposed by ...
Size:
616.6Kb
Format:
PDF
Your vote was cast
Thank you for your feedback
Abstract
Humans and their associated anthropogenic factors may strongly affect the demographics, activity, and fragmentation of wild animal populations. Yet, the degree and nature of such impact on indicators of animals' social relationships remain largely under-investigated, despite the well-documented importance of strong social ties for an individuals' health and fitness. Here, we examined whether interactions with humans may affect core aspects of social life in a primate species, by constraining the time available for individuals to engage in social interactions. Specifically, we predicted that individuals who spent more time monitoring or interacting with humans reduce their time socializing with conspecifics (i.e., the time constraints hypothesis). Alternatively, human presence may result in increased levels of stress, leading to an increase in social behaviours which serve as a coping mechanism (i.e., the social stress hypothesis). We collected data between September 2016 and September 2017 on four groups of long-tailed macaques in Malaysia at two sites with differing levels of human impact. In support of the time constraints hypothesis, we found that at the site with moderate human impact, monkeys who monitored human activity more frequently engaged less often in grooming. In contrast, at the site with high human impact, we found evidence supporting the social stress hypothesis, as indicators of stress were positively associated with social interactions, although we could not link them to the presence of humans. Our results suggest that the nature of human impact on macaques' social behaviour is dependent upon the intensity of human activity and interaction with the macaques. These findings therefore provide insights into how humans may influence individual fitness and group social structure in animals living in an anthropogenic environment. More broadly, our results may lead to a better understanding of animal behaviour in anthropogenic environments, implementing conservation and population management strategies, and mitigating human-wildlife conflict.
ae974a485f413a2113503eed53cd6c53
10.1016/j.anbehav.2019.02.010
Scopus Count
Collections
The following licence applies to the copyright and re-use of this item:
Except where otherwise noted, this item's license is described as Attribution-NonCommercial-NoDerivs 3.0 United States