Prediction studies of environment-friendly biodegradable polymeric packaging based on PLA. Influence of specimens' thickness on the hydrolytic degradation profile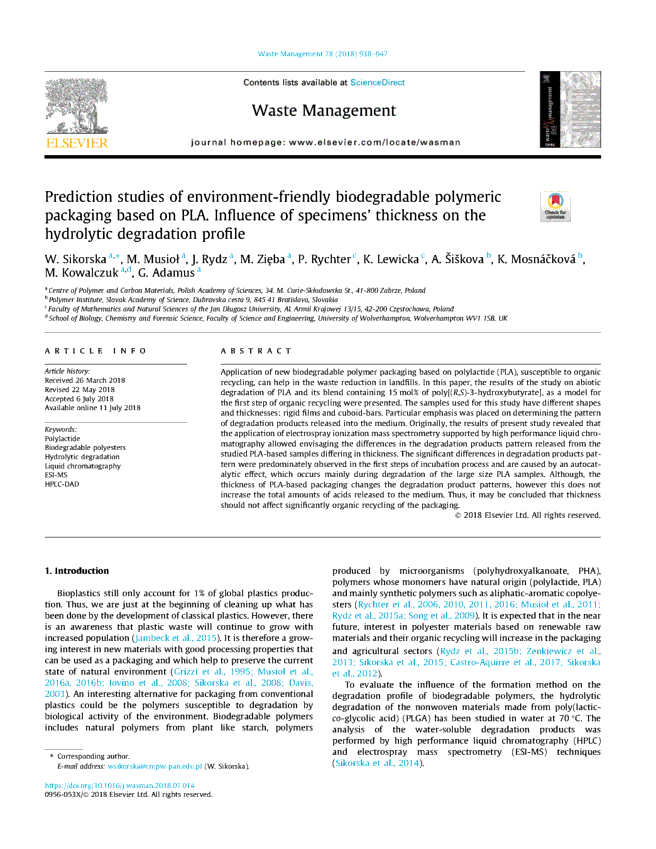 Name:
Prediction studies of environm ...
Size:
1.210Mb
Format:
PDF
Abstract
Application of new biodegradable polymer packaging based on polylactide (PLA), susceptible to organic recycling, can help in the waste reduction in landfills. In this paper, the results of the study on abiotic degradation of PLA and its blend containing 15 mol% of poly[(R,S)-3-hydroxybutyrate], as a model for the first step of organic recycling were presented. The samples used for this study have different shapes and thicknesses: rigid films and cuboid-bars. Particular emphasis was placed on determining the pattern of degradation products released into the medium. Originally, the results of present study revealed that the application of electrospray ionization mass spectrometry supported by high performance liquid chromatography allowed envisaging the differences in the degradation products pattern released from the studied PLA-based samples differing in thickness. The significant differences in degradation products pattern were predominately observed in the first steps of incubation process and are caused by an autocatalytic effect, which occurs mainly during degradation of the large size PLA samples. Although, the thickness of PLA-based packaging changes the degradation product patterns, however this does not increase the total amounts of acids released to the medium. Thus, it may be concluded that thickness should not affect significantly organic recycling of the packaging.
Citation
'Prediction studies of environment-friendly biodegradable polymeric packaging based on PLA. Influence of specimens' thickness on the hydrolytic degradation profile', Waste Management, 78, pp. 938-947 doi: 10.1016/j.wasman.2018.07.014
ae974a485f413a2113503eed53cd6c53
10.1016/j.wasman.2018.07.014
Scopus Count
Collections
The following licence applies to the copyright and re-use of this item:
Except where otherwise noted, this item's license is described as https://creativecommons.org/licenses/by-nc-nd/4.0/