Microwave-assisted aqueous two-phase extraction of alkaloids from Radix Sophorae Tonkinensis with ethanol/Na2HPO4 system: process optimization, composition identification and quantification analysis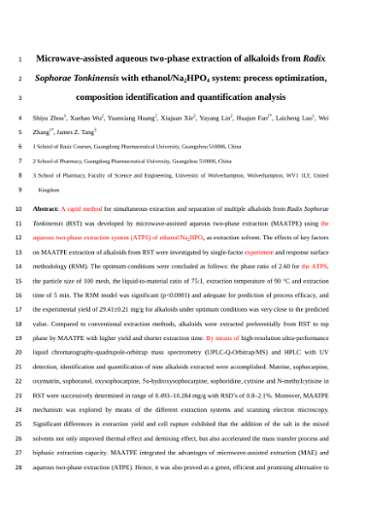 Name:
ICP-2018-revised manuscript.pdf
Size:
1.392Mb
Format:
PDF
Abstract
A rapid method for simultaneous extraction and separation of multiple alkaloids from Radix Sophorae Tonkinensis (RST) was developed by microwave-assisted aqueous two-phase extraction (MAATPE) using the aqueous two-phase extraction system (ATPS) of ethanol/Na2HPO4 as the extraction solvent. The effects of key factors on extraction yield were investigated by utilizing single-factor experiment coupled to response surface methodology (RSM). The regression model by RSM was significant (p < 0.0001) and adequate for prediction of process efficacy, the optimized conditions were successfully validated by the parallel experiments with the yield very close to the predicted value. The optimum conditions were summarized as follows: the phase ratio of 2.60 for the ATPS, the particle size of 100 mesh, the liquid-to-material ratio of 75:1, the extraction temperature of 90 °C and the extraction time of 5 min, respectively. In MAATPE process, alkaloids were extracted preferentially from RST in the top phase with a higher yield and shorter extraction time than those of heating reflux extraction (HRE) and ultrasonic-assisted extraction (UAE). Nine alkaloids extracted were identified and quantified by high-resolution ultra-performance liquid chromatography-quadrupole-orbitrap mass spectrometry (UPLC-Q-Orbitrap/MS) and HPLC with UV detection. The contents of matrine, sophocarpine, oxymatrin, sophoranol, oxysophocarpine, 5α-hydroxysophocarpine, sophoridine, cytisine and N-methylcytisine in RST were quantified in range of 0.493–10.284 mg/g with recoveries of 90.26–106.3% and RSD's of 0.8–2.1%, respectively. Moreover, the MAATPE mechanism was explored using the different extraction systems in combination of scanning electron microscopy (SEM) morphological studies. Significant differences in extraction yield and cell rupture exhibited that the addition of the salt in the ethanol-water mixture not only improved the thermal and demixing effects, but also accelerated the mass transfer and biphasic extraction processes. MAATPE integrated the advantages of microwave-assisted extraction (MAE) and aqueous two-phase extraction (ATPE) was proved as a green, efficient and promising alternative to extraction of alkaloids from RST.
Citation
'Microwave-assisted aqueous two-phase extraction of alkaloids from Radix Sophorae Tonkinensis with ethanol/Na2HPO4 system: process optimization, composition identification and quantification analysis', Industrial Crops and Products, 122 (15) pp. 316-328. doi: 10.1016/j.indcrop.2018.06.004
Journal
Industrial Crops and Products
ae974a485f413a2113503eed53cd6c53
10.1016/j.indcrop.2018.06.004
Scopus Count
Collections
The following licence applies to the copyright and re-use of this item:
Except where otherwise noted, this item's license is described as https://creativecommons.org/licenses/by-nc-nd/4.0/