Developments of electric cars and fuel cell hydrogen electric cars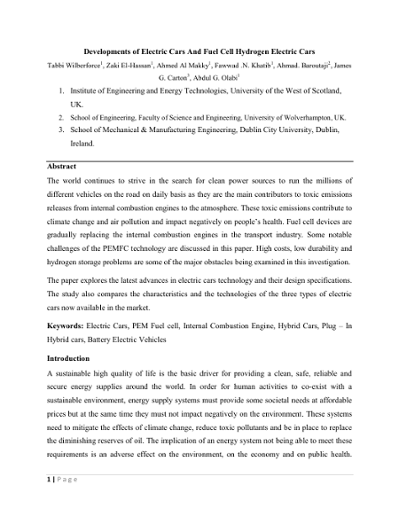 Name:
AAM-A Baroutaji- Developments ...
Size:
6.543Mb
Format:
PDF
Abstract
The world continues to strive in the search for clean power sources to run the millions of different vehicles on the road on daily basis as they are the main contributors to toxic emissions releases from internal combustion engines to the atmosphere. These toxic emissions contribute to climate change and air pollution and impact negatively on people's health. Fuel cell devices are gradually replacing the internal combustion engines in the transport industry. Some notable challenges of the PEMFC technology are discussed in this paper. High costs, low durability and hydrogen storage problems are some of the major obstacles being examined in this investigation. The paper explores the latest advances in electric cars technology and their design specifications. The study also compares the characteristics and the technologies of the three types of electric cars now available in the market.
Citation
Awotwe, T. W., El-Hassan, Z., Khatib, F. N., Al Makky, A., Baroutaji, A., Carton, J. G., Olabi, A-G. (2017) 'Developments of electric cars and fuel cell hydrogen electric cars', International Journal of Hydrogen Energy, 42 (40) p. 25695 doi:10.1016/j.ijhydene.2017.07.054
Journal
International Journal of Hydrogen Energy
ae974a485f413a2113503eed53cd6c53
10.1016/j.ijhydene.2017.07.054
Scopus Count
Collections
The following licence applies to the copyright and re-use of this item:
Except where otherwise noted, this item's license is described as https://creativecommons.org/licenses/by-nc-nd/4.0/