Electron impact ionization of 1-butanol: II. Total ionization cross sections and appearance energies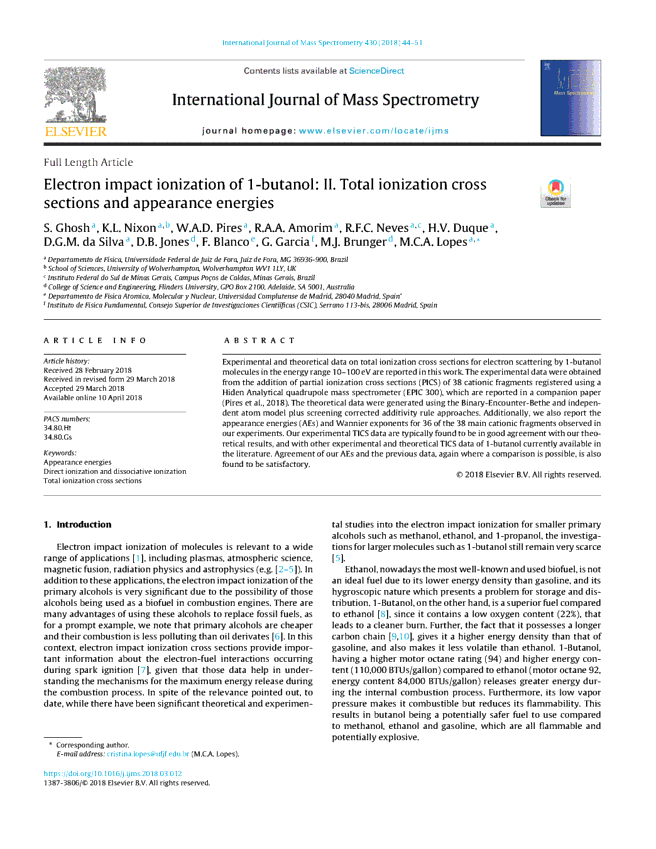 Your vote was cast
Thank you for your feedback
Abstract
Experimental and theoretical data on total ionization cross sections for electron scattering by 1-butanol molecules in the energy range 10–100 eV are reported in this work. The experimental data were obtained from the addition of partial ionization cross sections (PICS) of 38 cationic fragments registered using a Hiden Analytical quadrupole mass spectrometer (EPIC 300), which are reported in a companion paper (Pires et al., 2018). The theoretical data were generated using the Binary-Encounter-Bethe and independent atom model plus screening corrected additivity rule approaches. Additionally, we also report the appearance energies (AEs) and Wannier exponents for 36 of the 38 main cationic fragments observed in our experiments. Our experimental TICS data are typically found to be in good agreement with our theoretical results, and with other experimental and theoretical TICS data of 1-butanol currently available in the literature. Agreement of our AEs and the previous data, again where a comparison is possible, is also found to be satisfactory.
Citation
(2018) 'Electron impact ionization of 1-butanol: II. Total ionization cross sections and appearance energies', International Journal of Mass Spectrometry, 430:44
Journal
International Journal of Mass Spectrometry
ae974a485f413a2113503eed53cd6c53
10.1016/j.ijms.2018.03.012
Scopus Count
Collections
The following license files are associated with this item:
Related items
Showing items related by title, author, creator and subject.
Electron impact ionization of 1-butanol: I. Mass spectra and partial ionization cross sections

Pires, W.A.D.; Nixon, K.L.; Ghosh, S.; Amorim, R.A.A.; Neves, R.F.C.; Duque, H.V.; da Silva, D.G.M.; Jones, D.B.; Brunger, M.J.; Lopes, M.C.A. (

Elsevier

,

2018-03-31

)

Experimental measurements of the cations created through electron impact ionization have been undertaken for the primary isomer of butanol, using a Hiden Quadrupole Mass Spectrometer (EPIC 300) with a mass resolution of 1 amu. The mass spectrum recorded at an incident electron energy of 70 eV, normalized and placed on an absolute scale, reveals the relative probability of forming 76 different cations of butanol by either direct ionization or dissociative ionization. Individual partial ionization cross sections (PICS) for the 38 main cationic fragments, measured at electron energies in the range 10–100 eV, are also reported for the first time in this work.

Comparison of experimental and theoretical electron-impact-ionization triple-differential cross sections for ethane

Ali, Esam; Nixon, Kate; Murray, Andrew; Ning, Chuangang; Colgan, James; Madison, Don (

American Physical Society

,

2015-10-30

)

We have recently examined electron-impact ionization of molecules that have one large atom at the center, surrounded by H nuclei ( H 2 O , N H 3 , C H 4 ). All of these molecules have ten electrons; however, they vary in their molecular symmetry. We found that the triple-differential cross sections (TDCSs) for the highest occupied molecular orbitals (HOMOs) were similar, as was the character of the HOMO orbitals which had a p -type "peanut" shape. In this work, we examine ethane ( C 2 H 6 ) which is a molecule that has two large atoms surrounded by H nuclei, so that its HOMO has a double-peanut shape. The experiment was performed using a coplanar symmetric geometry (equal final-state energies and angles). We find the TDCS for ethane is similar to the single-center molecules at higher energies, and is similar to a diatomic molecule at lower energies.

Natural and unnatural-parity contributions in electron-impact ionization of laser-aligned atoms

Murray, A J; Colgan, J; Madison, D; Harvey, M; Sakaamini, A; Pursehouse, J; Nixon, Kate; Stauffer, A (

IOP Publishing

,

2017-11-30

)

Differential cross section measurements from laser-aligned Mg atoms are compared to theoretical calculations using both time dependent and time-independent formalisms. It is found that both natural and unnatural parity contributions to the calculated cross sections are required to emulate the data when the state is aligned out of the scattering plane.