Electron impact ionization of 1-butanol: II. Total ionization cross sections and appearance energies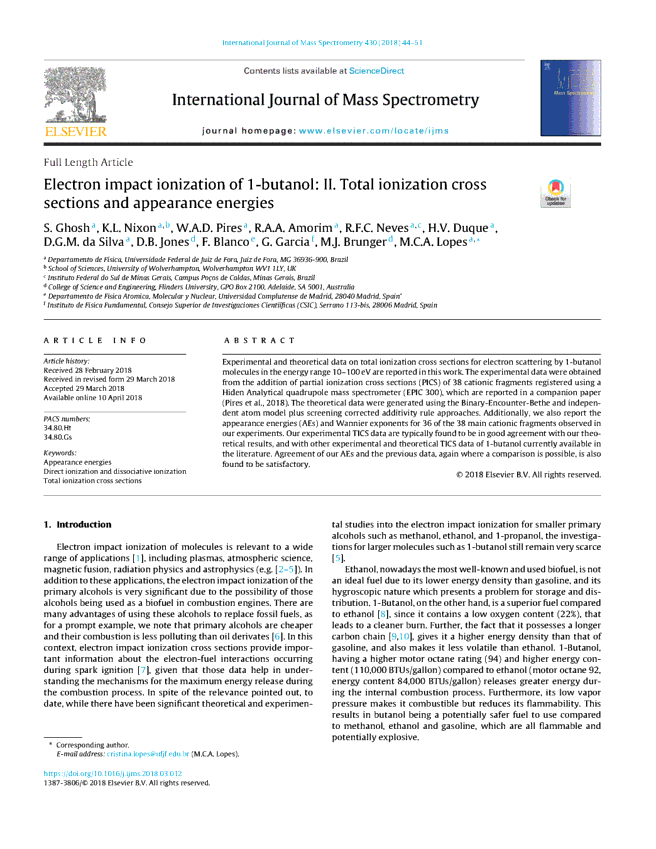 Name:
AUTHOR ACCEPTED MANUSCRIPT.pdf
Embargo:
2020-11-11
Size:
38.13Kb
Format:
PDF
Your vote was cast
Thank you for your feedback
Abstract
Experimental and theoretical data on total ionization cross sections for electron scattering by 1-butanol molecules in the energy range 10–100 eV are reported in this work. The experimental data were obtained from the addition of partial ionization cross sections (PICS) of 38 cationic fragments registered using a Hiden Analytical quadrupole mass spectrometer (EPIC 300), which are reported in a companion paper (Pires et al., 2018). The theoretical data were generated using the Binary-Encounter-Bethe and independent atom model plus screening corrected additivity rule approaches. Additionally, we also report the appearance energies (AEs) and Wannier exponents for 36 of the 38 main cationic fragments observed in our experiments. Our experimental TICS data are typically found to be in good agreement with our theoretical results, and with other experimental and theoretical TICS data of 1-butanol currently available in the literature. Agreement of our AEs and the previous data, again where a comparison is possible, is also found to be satisfactory.
Citation
(2018) 'Electron impact ionization of 1-butanol: II. Total ionization cross sections and appearance energies', International Journal of Mass Spectrometry, 430:44
Journal
International Journal of Mass Spectrometry
ae974a485f413a2113503eed53cd6c53
10.1016/j.ijms.2018.03.012
Scopus Count
Collections
The following license files are associated with this item:
Related items
Showing items related by title, author, creator and subject.
Electron impact ionization of 1-butanol: I. Mass spectra and partial ionization cross sections

Pires, W.A.D.; Nixon, K.L.; Ghosh, S.; Amorim, R.A.A.; Neves, R.F.C.; Duque, H.V.; da Silva, D.G.M.; Jones, D.B.; Brunger, M.J.; Lopes, M.C.A. (

Elsevier

,

2018-03-31

)

Experimental measurements of the cations created through electron impact ionization have been undertaken for the primary isomer of butanol, using a Hiden Quadrupole Mass Spectrometer (EPIC 300) with a mass resolution of 1 amu. The mass spectrum recorded at an incident electron energy of 70 eV, normalized and placed on an absolute scale, reveals the relative probability of forming 76 different cations of butanol by either direct ionization or dissociative ionization. Individual partial ionization cross sections (PICS) for the 38 main cationic fragments, measured at electron energies in the range 10–100 eV, are also reported for the first time in this work.

Electron- and photon-impact ionization of furfural

Jones, D. B.; Ali, E.; Nixon, K. L.; Limão-Vieira, P.; Hubin-Franskin, M.-J.; Delwiche, J.; Ning, C. G.; Colgan, J.; Murray, A. J.; Madison, D. H.; et al. (

2015-11-14

)

The He(i) photoelectron spectrum of furfural has been investigated, with its vibrational structure assigned for the first time. The ground and excited ionized states are assigned through ab initio calculations performed at the outer-valence Green's function level. Triple differential cross sections (TDCSs) for electron-impact ionization of the unresolved combination of the 4a″  +  21a′ highest and next-highest occupied molecular orbitals have also been obtained. Experimental TDCSs are recorded in a combination of asymmetric coplanar and doubly symmetric coplanar kinematics. The experimental TDCSs are compared to theoretical calculations, obtained within a molecular 3-body distorted wave framework that employed either an orientation average or proper TDCS average. The proper average calculations suggest that they may resolve some of the discrepancies regarding the angular distributions of the TDCS, when compared to calculations employing the orbital average.

Evidence for unnatural-parity contributions to electron-impact ionization of laser-aligned atoms

Armstrong, G. S. J.; Colgan, J.; Pindzola, M. S.; Amami, S.; Madison, D. H.; Pursehouse, J.; Nixon, K. L.; Murray, A. J. (

American Physical Society

,

2015-09-11

)

Recent measurements have examined the electron-impact ionization of excited-state laser-aligned Mg atoms. In this work we show that the ionization cross section arising from the geometry where the aligned atom is perpendicular to the scattering plane directly probes the unnatural parity contributions to the ionization amplitude. The contributions from natural parity partial waves cancel exactly in this geometry. Our calculations resolve the discrepancy between the nonzero measured cross sections in this plane and the zero cross section predicted by distorted-wave approaches. We demonstrate that this is a general feature of ionization from p-state targets by additional studies of ionization from excited Ca and Na atoms.