Silent slips, trips and broken hips in the under 60s: A review of the literature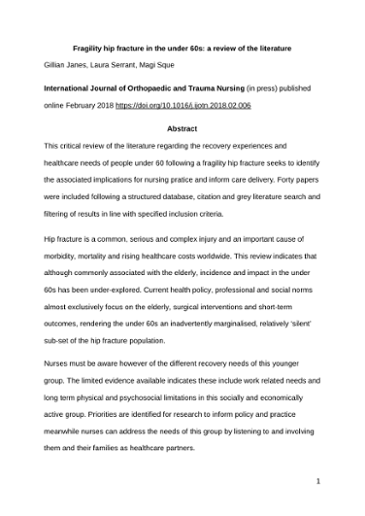 Name:
IJOTN manuscript accepted Feb ...
Size:
186.2Kb
Format:
PDF
Your vote was cast
Thank you for your feedback
Abstract
This critical review of the literature regarding the recovery experiences and healthcare needs of people under 60 following a fragility hip fracture seeks to identify the associated implications for nursing practice and inform care delivery. Forty papers were included following a structured database, citation and grey literature search and filtering of results in line with specified inclusion criteria. Hip fracture is a common, serious and complex injury and an important cause of morbidity, mortality and rising healthcare costs worldwide. This review indicates that although commonly associated with the elderly, incidence and impact in the under 60s has been under-explored. Current health policy, professional and social norms almost exclusively focus on the elderly, surgical interventions and short-term outcomes, rendering the under 60s an inadvertently marginalised, relatively 'silent' sub-set of the hip fracture population. Nurses must be aware however of the different recovery needs of this younger group. The limited evidence available indicates these include work related needs and long term physical and psychosocial limitations in this socially and economically active group. Priorities are identified for research to inform policy and practice meanwhile nurses can address the needs of this group by listening to and involving them and their families as healthcare partners.
Citation
Silent slips, trips and broken hips in the under 60s: A review of the literature 2018 International Journal of Orthopaedic and Trauma Nursing
Journal
International Journal of Orthopaedic and Trauma Nursing
ae974a485f413a2113503eed53cd6c53
10.1016/j.ijotn.2018.02.006
Scopus Count
Collections
The following licence applies to the copyright and re-use of this item:
Except where otherwise noted, this item's license is described as https://creativecommons.org/licenses/by-nc-nd/4.0/