The value of 2 J P–CO as a diagnostic parameter for the structure and thermal reactivity of carbonyl-stabilised phosphonium ylides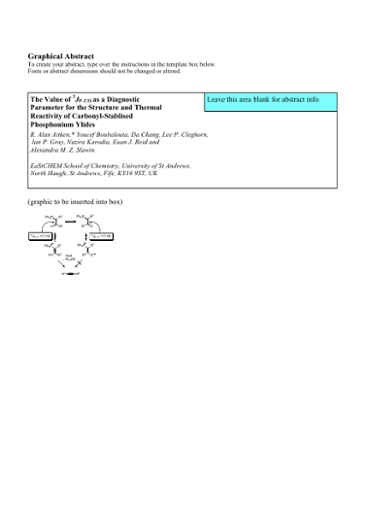 Name:
17T_P-Ccoupling rev.pdf
Size:
1.351Mb
Format:
PDF
Abstract
A survey of 20 carbonyl-stabilised phosphonium ylides with recently reported X-ray structures shows a strong correlation between the CP to CO torsion angle and the value of 2JP–CO, with high values being associated with an anti configuration and low with syn. Seven new X-ray structural determinations are reported, several for types of ylide not crystallographically characterised before, and these also conform to this pattern. The value of 2JP–CO is then correlated with whether or not thermal extrusion of Ph3PO occurs to give alkynes for over 200 ylides and an empirical rule developed that the extrusion never occurs for ylides where this value is > 11 Hz. This is used to rationalise the anomalous behaviour of some trioxo ylides and cyclic ylides, two of which afford cycloalkynes, isolated after rearrangement as the isomeric 1,3-dienes. The rule also holds for a family of novel highly fluorinated ylides which afford fluorinated alkynes in good yield upon flash vacuum pyrolysis.
Citation
Aitken, RA., Boubalouta, Y., Chang, D., Cleghorn, LP., Gray, IP., Karodia, N., Reid, EJ and Slawin, AMZ. (2017) 'The value of 2 J P–CO as a diagnostic parameter for the structure and thermal reactivity of carbonyl-stabilised phosphonium ylides' Tetrahedron, 73 (44) pp. 6275-6285 doi: https://doi.org/10.1016/j.tet.2017.09.016
Sponsors
EPSRC (U.K.) for a DTA Studentship (Grant No. EP/P505712/1)
ae974a485f413a2113503eed53cd6c53
10.1016/j.tet.2017.09.016
Scopus Count
Collections
The following licence applies to the copyright and re-use of this item:
Except where otherwise noted, this item's license is described as https://creativecommons.org/CC BY-NC-ND 4.0