Framework for risk management software system for SMEs in the engineering construction sector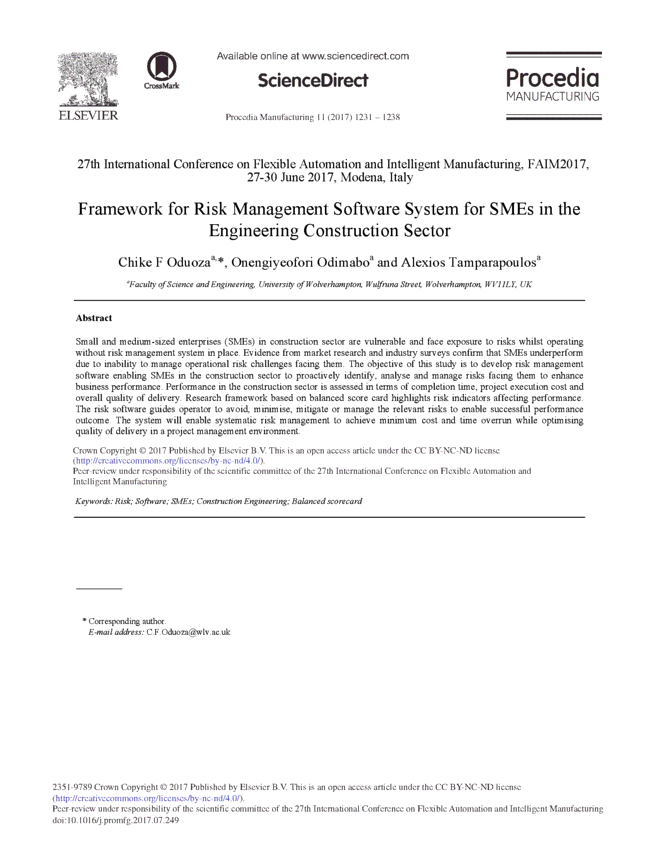 Name:
Risk Management Framework - ...
Size:
610.2Kb
Format:
PDF
Abstract
Small and medium-sized enterprises (SMEs) in construction sector are vulnerable and face exposure to risks whilst operating without risk management system in place. Evidence from market research and industry surveys confirm that SMEs underperform due to inability to manage operational risk challenges facing them. The objective of this study is to develop risk management software enabling SMEs in the construction sector to proactively identify, analyse and manage risks facing them to enhance business performance. Performance in the construction sector is assessed in terms of completion time, project execution cost and overall quality of delivery. Research framework based on balanced score card highlights risk indicators affecting performance. The risk software guides operator to avoid, minimise, mitigate or manage the relevant risks to enable successful performance outcome. The system will enable systematic risk management to achieve minimum cost and time overrun while optimising quality of delivery in a project management environment.
Citation
Oduoza, CF., Odimabo., O., Tamparapoulos, (2017) 'Framework for Risk Management Software System for SMEs in the Engineering Construction Sector', Procedia Manufacturing 11 (1)
Journal
Procedia Manufacturing
Sponsors
EU FP7 Marie Curie Award
ae974a485f413a2113503eed53cd6c53
10.1016/j.promfg.2017.07.249
Scopus Count
Collections
The following licence applies to the copyright and re-use of this item:
Except where otherwise noted, this item's license is described as https://creativecommons.org/CC BY-NC-ND 4.0