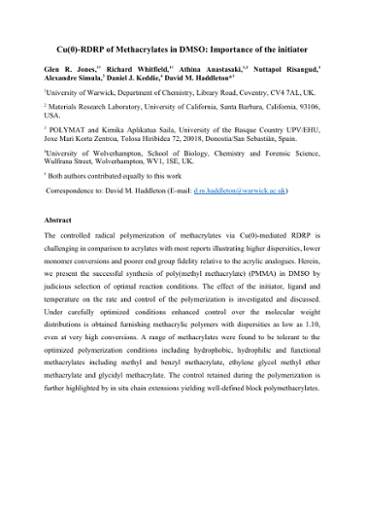 Name:
methacrylatesmanuscriptrevisio ...
Size:
1.048Mb
Format:
Microsoft Word 2007
Description:
Authors accepted version
Your vote was cast
Thank you for your feedback
Issue Date
2017-08-17
Abstract
The controlled radical polymerization of methacrylates via Cu(0)-mediated RDRP is challenging in comparison to acrylates with most reports illustrating higher dispersities, lower monomer conversions and poorer end group fidelity relative to the acrylic analogues. Herein, we present the successful synthesis of poly(methyl methacrylate) (PMMA) in DMSO by judicious selection of optimal reaction conditions. The effect of the initiator, ligand and temperature on the rate and control of the polymerization is investigated and discussed. Under carefully optimized conditions enhanced control over the molecular weight distributions is obtained furnishing methacrylic polymers with dispersities as low as 1.10, even at very high conversions. A range of methacrylates were found to be tolerant to the optimized polymerization conditions including hydrophobic, hydrophilic and functional methacrylates including methyl and benzyl methacrylate, ethylene glycol methyl ether methacrylate and glycidyl methacrylate. The control retained during the polymerization is further highlighted by in situ chain extensions yielding well-defined block polymethacrylates.
Citation
Cu(0)-RDRP of methacrylates in DMSO: importance of the initiator 2017 Polym. Chem.
Journal
Polym. Chem.
Type
Article
Language
en

ae974a485f413a2113503eed53cd6c53

10.1039/C7PY01196B
Scopus Count
Collections