Preliminary SAR on indole-3-carbinol and related fragments reveals a novel anticancer lead compound against resistant glioblastoma cells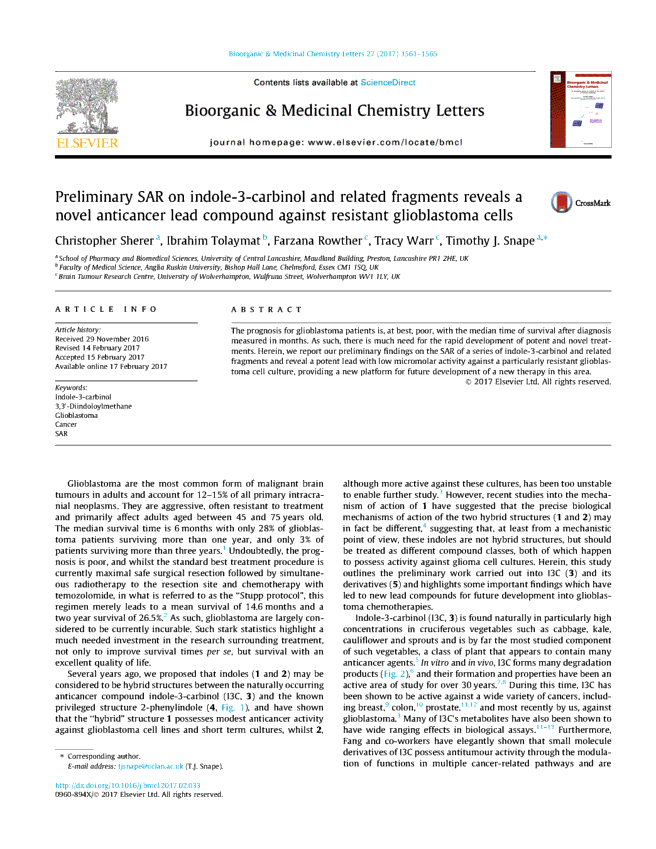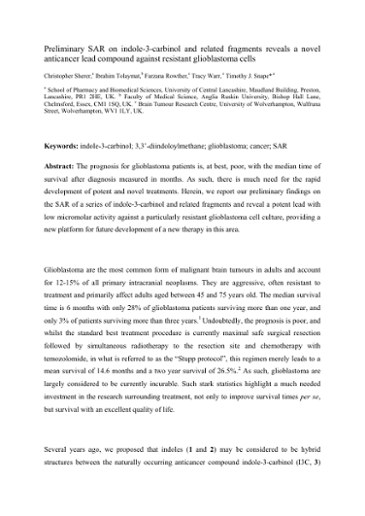 Name:
Snape - Paper MS - Final 2017.pdf
Size:
684.2Kb
Format:
PDF
Abstract
The prognosis for glioblastoma patients is, at best, poor, with the median time of survival after diagnosis measured in months. As such, there is much need for the rapid development of potent and novel treatments. Herein, we report our preliminary findings on the SAR of a series of indole-3-carbinol and related fragments and reveal a potent lead with low micromolar activity against a particularly resistant glioblastoma cell culture, providing a new platform for future development of a new therapy in this area.
Citation
Sherer C., Tolaymat I., Rowther F., Warr T., Snape TJ. (2017) 'Preliminary SAR on indole-3-carbinol and related fragments reveals a novel anticancer lead compound against resistant glioblastoma cells', Bioorganic & Medicinal Chemistry Letters, 27 (7) pp. 1561-1565
Journal
Bioorganic & Medicinal Chemistry Letters
ae974a485f413a2113503eed53cd6c53
10.1016/j.bmcl.2017.02.033
Scopus Count
Collections
The following licence applies to the copyright and re-use of this item:
Except where otherwise noted, this item's license is described as https://creativecommons.org/licenses/by-nc-nd/4.0/