Structure investigation of nano-FeO(OH) modified clinoptilolite tuff for antimony removal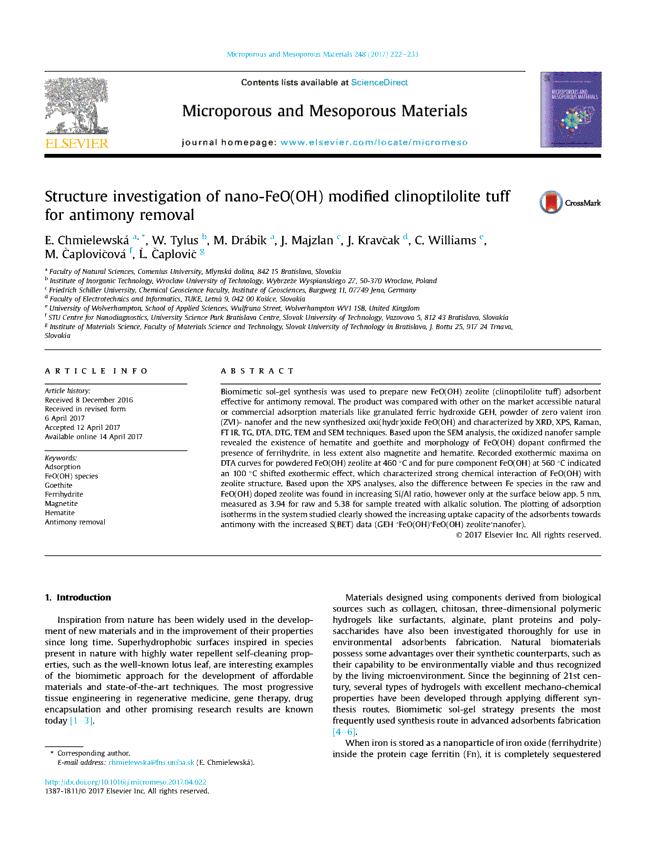 Name:
Structure Investigstion of nano ...
Size:
1.587Mb
Format:
PDF
Abstract
Biomimetic sol-gel synthesis was used to prepare new FeO(OH) zeolite (clinoptilolite tuff) adsorbent effective for antimony removal. The product was compared with other on the market accessible natural or commercial adsorption materials like granulated ferric hydroxide GEH, powder of zero valent iron (ZVI)- nanofer and the new synthesized oxi(hydr)oxide FeO(OH) and characterized by XRD, XPS, Raman, FT IR, TG, DTA, DTG, TEM and SEM techniques. Based upon the SEM analysis, the oxidized nanofer sample revealed the existence of hematite and goethite and morphology of FeO(OH) dopant confirmed the presence of ferrihydrite, in less extent also magnetite and hematite. Recorded exothermic maxima on DTA curves for powdered FeO(OH) zeolite at 460 °C and for pure component FeO(OH) at 560 °C indicated an 100 °C shifted exothermic effect, which characterized strong chemical interaction of FeO(OH) with zeolite structure. Based upon the XPS analyses, also the difference between Fe species in the raw and FeO(OH) doped zeolite was found in increasing Si/Al ratio, however only at the surface below app. 5 nm, measured as 3.94 for raw and 5.38 for sample treated with alkalic solution. The plotting of adsorption isotherms in the system studied clearly showed the increasing uptake capacity of the adsorbents towards antimony with the increased S(BET) data (GEH ˃FeO(OH)˃FeO(OH) zeolite˃nanofer).
Citation
(2017) 'Structure investigation of nano-FeO(OH) modified clinoptilolite tuff for antimony removal', Microporous and Mesoporous Materials, 248 pp. 222-233
Journal
Microporous and Mesoporous Materials
ae974a485f413a2113503eed53cd6c53
10.1016/j.micromeso.2017.04.022
Scopus Count
Collections
Except where otherwise noted, this item's license is described as https://creativecommons.org/licenses/by-nc-nd/4.0/