The educational experiences of the second generation from refugee backgrounds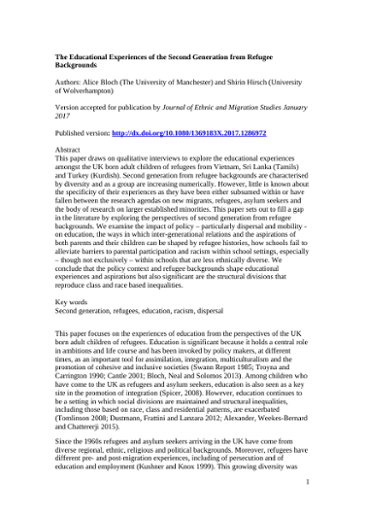 Name:
Bloch and Hirsch Author Accepted ...
Size:
128.7Kb
Format:
Microsoft Word 2007
Your vote was cast
Thank you for your feedback
Issue Date
2017-02-08
Abstract
This paper draws on qualitative interviews to explore the educational experiences amongst the UK-born adult children of refugees from Vietnam, Sri Lanka (Tamils) and Turkey (Kurdish). Second generation from refugee backgrounds are characterised by diversity and as a group are increasing numerically. However, little is known about the specificity of their experiences as they have been either subsumed within or have fallen between the research agendas on new migrants, refugees, asylum seekers and the body of research on larger established minorities. This paper sets out to fill a gap in the literature by exploring the perspectives of second generation from refugee backgrounds. We examine the impact of policy – particularly dispersal and mobility – on education, the ways in which inter-generational relations and the aspirations of both parents and their children can be shaped by refugee histories, how schools fail to alleviate barriers to parental participation and racism within school settings, especially – though not exclusively – within schools that are less ethnically diverse. We conclude that the policy context and refugee backgrounds shape educational experiences and aspirations but also significant are the structural divisions that reproduce class and race-based inequalities.
Citation
The educational experiences of the second generation from refugee backgrounds 2017:1 Journal of Ethnic and Migration Studies
Journal
Journal of Ethnic and Migration Studies
Type
Article
Language
en
ISSN
1369-183X

ae974a485f413a2113503eed53cd6c53

10.1080/1369183X.2017.1286972
Scopus Count
Collections
The following license files are associated with this item: