Assessing the economic performance of an environmental sustainable supply chain in reducing environmental externalities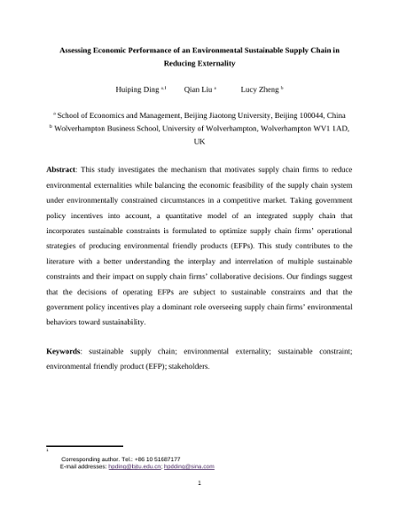 Name:
version 51 page Dec 2015.docx
Size:
507.9Kb
Format:
Microsoft Word 2007
Your vote was cast
Thank you for your feedback
Issue Date
2016-05-09
Abstract
This study investigates the mechanism that motivates supply chain firms to reduce environmental externalities while balancing the economic feasibility of the supply chain system under environmentally constrained circumstances in a competitive market. Taking government policy incentives into account, a quantitative model of an integrated supply chain that incorporates sustainable constraints is formulated to optimize supply chain firms' operational strategies of producing environmental friendly products (EFPs). This study contributes to the literature with a better understanding the interplay and interrelation of multiple sustainable constraints and their impact on supply chain firms' collaborative decisions. Our findings suggest that the decisions of operating EFPs are subject to sustainable constraints and that the government policy incentives play a dominant role overseeing supply chain firms' environmental behaviors toward sustainability.
Citation
Assessing the economic performance of an environmental sustainable supply chain in reducing environmental externalities 2016, 255 (2):463 European Journal of Operational Research
Journal
European Journal of Operational Research
Type
Article
Language
en
ISSN
0377-2217

ae974a485f413a2113503eed53cd6c53

10.1016/j.ejor.2016.05.003
Scopus Count
Collections
The following license files are associated with this item: