Effect of desulphurised waste on long-term porosity and pore structure of blended cement pastes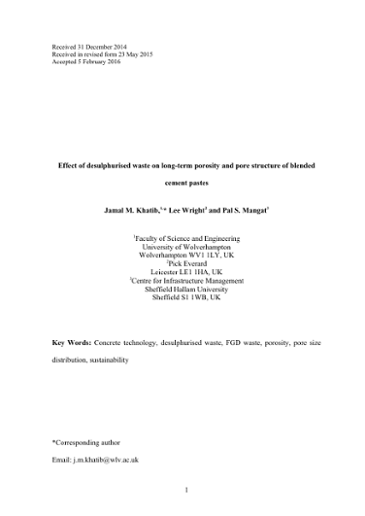 Name:
WIRE-Sus-Env-Reasearch-2016.doc
Size:
374Kb
Format:
Microsoft Word
Your vote was cast
Thank you for your feedback
Issue Date
2016-06-16
Abstract
This paper presents some results on the porosity and pore size distribution of cement paste containing simulated desulphurised waste (SDW) cured for 90 d. The SDW was chosen for the investigation due to the variability in chemical composition of real desulphurised waste as explained in previous papers. The SDW is a combination of 85% fly ash and 15% gypsum. The cement in the pastes was replaced with 0, 20 and 40% SDW. The water to binder ratio was 0.5. The binder consists of cement and SDW (by weight). After 90 d of curing, the porosity and pore size distribution tests were conducted on the pastes. Increasing the amount of SDW leads to an increase in the pore volume of the paste. There is no clear trend on the effect of SDW on the size of the pores.
Citation
Effect of desulphurised waste on long-term porosity and pore structure of blended cement pastes 2016, 26 (5):230 Sustainable Environment Research
Journal
Sustainable Environment Research
Type
Article
Language
en
ISSN
1022-7636
Sponsors
Open Access funded by The Chinese Institute of Environmental Engineering, Taiwan.

ae974a485f413a2113503eed53cd6c53

10.1016/j.serj.2016.02.002
Scopus Count
Collections
The following license files are associated with this item: