Surface-enhanced Raman encoded polymer stabilized gold nanoparticles: Demonstration of potential for use in bioassays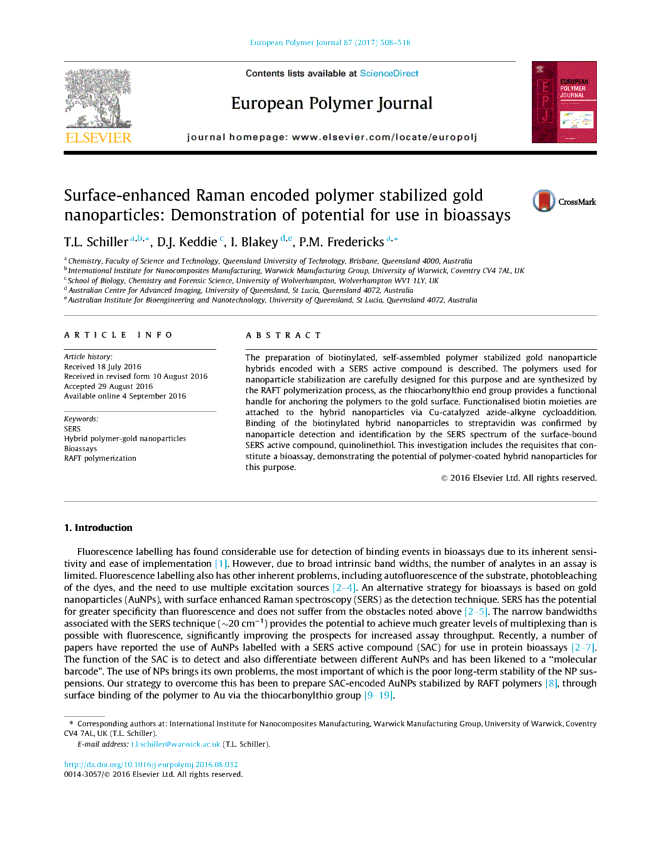 Name:
TLS Biotin Bioassay_revised_fi ...
Size:
789.8Kb
Format:
PDF
Abstract
The preparation of biotinylated, self-assembled polymer stabilized gold nanoparticle hybrids encoded with a SERS active compound is described. The polymers used for nanoparticle stabilization are carefully designed for this purpose and are synthesized by the RAFT polymerization process, as the thiocarbonylthio end group provides a functional handle for anchoring the polymers to the gold surface. Functionalised biotin moieties are attached to the hybrid nanoparticles via Cu-catalyzed azide-alkyne cycloaddition. Binding of the biotinylated hybrid nanoparticles to streptavidin was confirmed by nanoparticle detection and identification by the SERS spectrum of the surface-bound SERS active compound, quinolinethiol. This investigation includes the requisites that constitute a bioassay, demonstrating the potential of polymer-coated hybrid nanoparticles for this purpose.
Citation
'Surface-enhanced Raman encoded polymer stabilized gold nanoparticles: Demonstration of potential for use in bioassays', European Polymer Journal, 87 . pp. 508-518. doi:10.1016/j.eurpolymj.2016.08.032
Journal
European Polymer Journal
Sponsors
Australian Reasearch Council
ae974a485f413a2113503eed53cd6c53
10.1016/j.eurpolymj.2016.08.032
Scopus Count
Collections
The following licence applies to the copyright and re-use of this item:
Except where otherwise noted, this item's license is described as https://creativecommons.org/CC BY-NC-ND 4.0