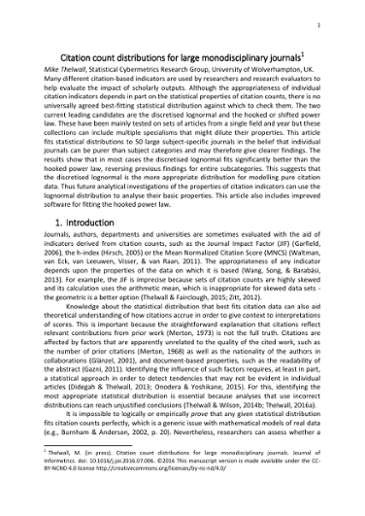 Name:
citation count 1607.04125.pdf
Size:
858.9Kb
Format:
PDF
Your vote was cast
Thank you for your feedback
Abstract
Many different citation-based indicators are used by researchers and research evaluators to help evaluate the impact of scholarly outputs. Although the appropriateness of individual citation indicators depends in part on the statistical properties of citation counts, there is no universally agreed best-fitting statistical distribution against which to check them. The two current leading candidates are the discretised lognormal and the hooked or shifted power law. These have been mainly tested on sets of articles from a single field and year but these collections can include multiple specialisms that might dilute their properties. This article fits statistical distributions to 50 large subject-specific journals in the belief that individual journals can be purer than subject categories and may therefore give clearer findings. The results show that in most cases the discretised lognormal fits significantly better than the hooked power law, reversing previous findings for entire subcategories. This suggests that the discretised lognormal is the more appropriate distribution for modelling pure citation data. Thus, future analytical investigations of the properties of citation indicators can use the lognormal distribution to analyse their basic properties. This article also includes improved software for fitting the hooked power law.
Journal
Journal of Informetrics
ae974a485f413a2113503eed53cd6c53
10.1016/j.joi.2016.07.006
Scopus Count
The following licence applies to the copyright and re-use of this item:
Except where otherwise noted, this item's license is described as http://creativecommons.org/licenses/by-nc-nd/4.0/