'Pavements Grey of the Imprisoning City: The Articulation of a Pro-Rural and Anti-Urban Ideology in the Youth Hostels Association in the 1930s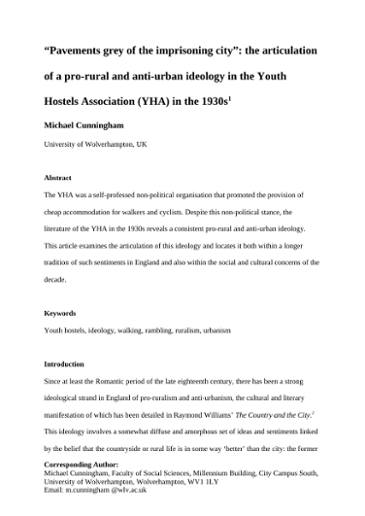 Name:
'Pavements grey of the imprisoning ...
Size:
83.09Kb
Format:
Microsoft Word 2007
Your vote was cast
Thank you for your feedback
Issue Date
2016-05-06
Abstract
The YHA was a self-professed non-political organisation that promoted the provision of cheap accommodation for walkers and cyclists. Despite this non-political stance, the literature of the YHA in the 1930s reveals a consistent pro-rural and anti-urban ideology. This article examines the articulation of this ideology and locates it both within a longer tradition of such sentiments in England and also within the social and cultural concerns of the decade.
Citation
'Pavements Grey of the Imprisoning City: The Articulation of a Pro-Rural and Anti-Urban Ideology in the Youth Hostels Association in the 1930s 2016, 25 (1):56 Literature & History
Journal
Literature & History
Type
Article
Language
en
ISSN
0306-1973
2050-4594

ae974a485f413a2113503eed53cd6c53

10.1177/0306197316634904
Scopus Count
Collections