Nucleation and growth history of zeolite LTA synthesized from kaolinite by two different methods.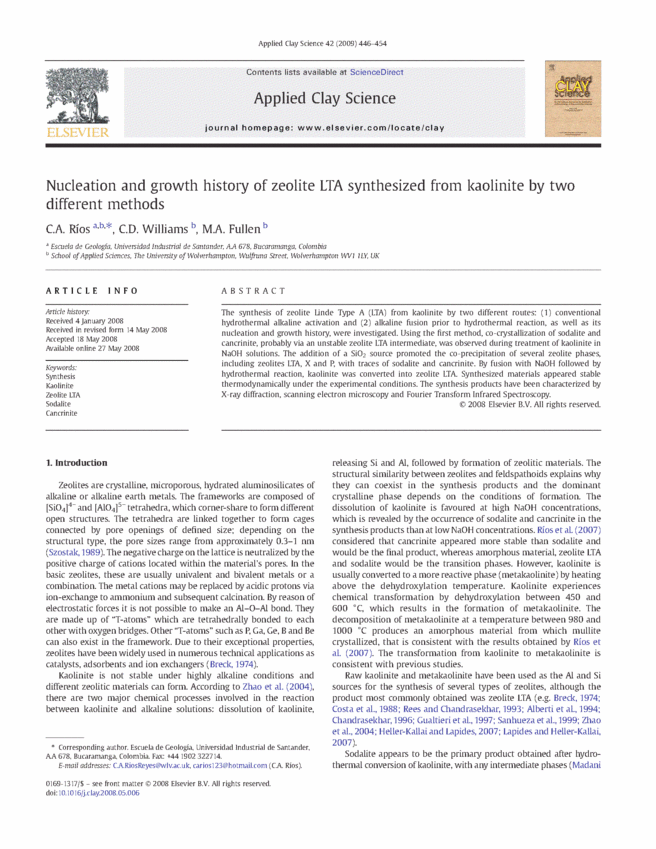 Your vote was cast
Thank you for your feedback
Abstract
The synthesis of zeolite Linde Type A (LTA) from kaolinite by two different routes: (1) conventional hydrothermal alkaline activation and (2) alkaline fusion prior to hydrothermal reaction, as well as its nucleation and growth history, were investigated. Using the first method, co-crystallization of sodalite and cancrinite, probably via an unstable zeolite LTA intermediate, was observed during treatment of kaolinite in NaOH solutions. The addition of a SiO2 source promoted the co-precipitation of several zeolite phases, including zeolites LTA, X and P, with traces of sodalite and cancrinite. By fusion with NaOH followed by hydrothermal reaction, kaolinite was converted into zeolite LTA. Synthesized materials appeared stable thermodynamically under the experimental conditions. The synthesis products have been characterized by X-ray diffraction, scanning electron microscopy and Fourier Transform Infrared Spectroscopy.
Citation
Applied Clay Science, 42(3-4): 446-454.
Journal
Applied Clay Science
ae974a485f413a2113503eed53cd6c53
10.1016/j.clay.2008.05.006
Scopus Count
Collections