Synthesis of zeolitic materials from natural clinker: A new alternative for recycling coal combustion by-products.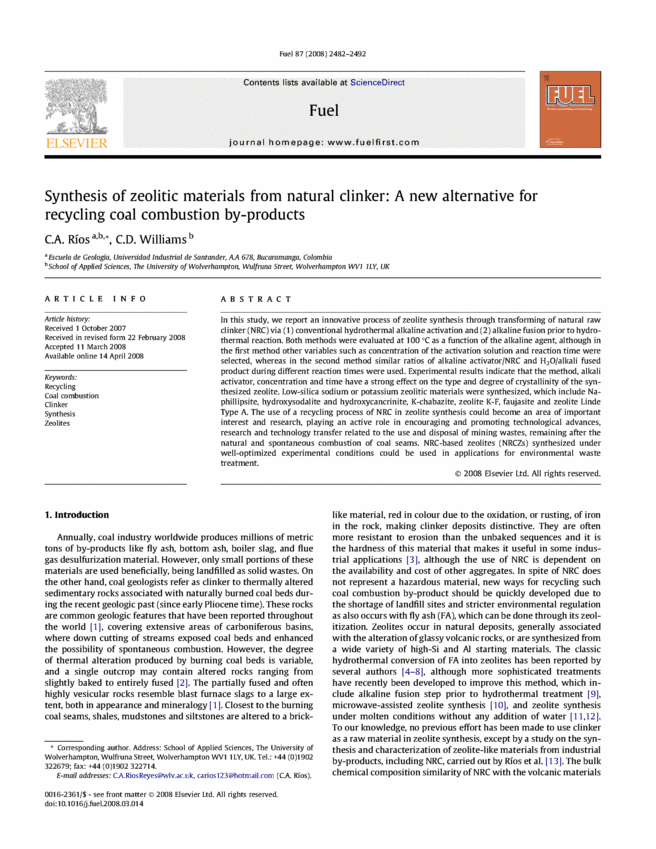 Abstract
In this study, we report an innovative process of zeolite synthesis through transforming of natural raw clinker (NRC) via (1) conventional hydrothermal alkaline activation and (2) alkaline fusion prior to hydrothermal reaction. Both methods were evaluated at 100 °C as a function of the alkaline agent, although in the first method other variables such as concentration of the activation solution and reaction time were selected, whereas in the second method similar ratios of alkaline activator/NRC and H2O/alkali fused product during different reaction times were used. Experimental results indicate that the method, alkali activator, concentration and time have a strong effect on the type and degree of crystallinity of the synthesized zeolite. Low-silica sodium or potassium zeolitic materials were synthesized, which include Na-phillipsite, hydroxysodalite and hydroxycancrinite, K-chabazite, zeolite K-F, faujasite and zeolite Linde Type A. The use of a recycling process of NRC in zeolite synthesis could become an area of important interest and research, playing an active role in encouraging and promoting technological advances, research and technology transfer related to the use and disposal of mining wastes, remaining after the natural and spontaneous combustion of coal seams. NRC-based zeolites (NRCZs) synthesized under well-optimized experimental conditions could be used in applications for environmental waste treatment.
Citation
Fuel, 87(12): 2482-2492.
ae974a485f413a2113503eed53cd6c53
10.1016/j.fuel.2008.03.014
Scopus Count
Collections