Zeolite L Synthesis using Different Molar Gel Compositions for the Purpose of Minimising Reagent Water.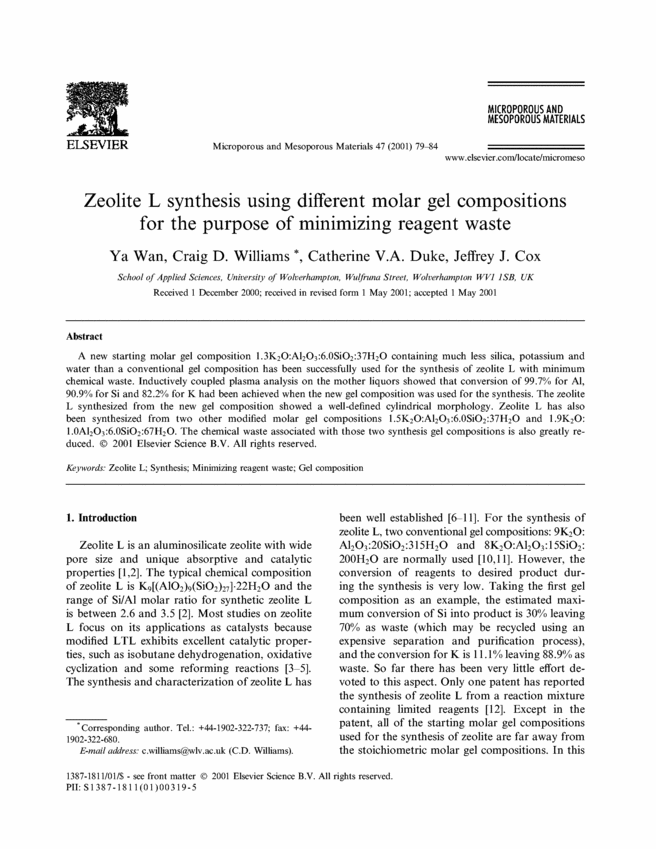 Your vote was cast
Thank you for your feedback
Abstract
A new starting molar gel composition 1.3K2O:Al2O3:6.0SiO2:37H2O containing much less silica, potassium and water than a conventional gel composition has been successfully used for the synthesis of zeolite L with minimum chemical waste. Inductively coupled plasma analysis on the mother liquors showed that conversion of 99.7% for Al, 90.9% for Si and 82.2% for K had been achieved when the new gel composition was used for the synthesis. The zeolite L synthesized from the new gel composition showed a well-defined cylindrical morphology. Zeolite L has also been synthesized from two other modified molar gel compositions 1.5K2O:Al2O3:6.0SiO2:37H2O and 1.9K2O:1.0Al2O3:6.0SiO2:67H2O. The chemical waste associated with those two synthesis gel compositions is also greatly reduced.
Citation
Microporous and Mesoporous Materials, 47(1): 79-84
Journal
Microporous and Mesoporous Materials
ae974a485f413a2113503eed53cd6c53
10.1016/S1387-1811(01)00319-5
Scopus Count
Collections