Approaching consensus in clinical competence assessment. Third round of a Delphi study of academics' and clinicians' perceptions of physiotherapy undergraduates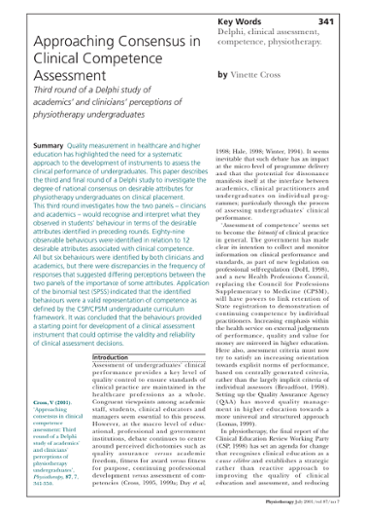 Name:
V_Cross 2001.pdf
Size:
116.8Kb
Format:
PDF
Abstract
Quality measurement in healthcare and higher education has highlighted the need for a systematic approach to the development of instruments to assess the clinical performance of undergraduates. This paper describes the third and final round of a Delphi study to investigate the degree of national consensus on desirable attributes for physiotherapy undergraduates on clinical placement. This third round investigates how the two panels – clinicians and academics – would recognise and interpret what they observed in students' behaviour in terms of the desirable attributes identified in preceding rounds. Eighty-nine observable behaviours were identified in relation to 12 desirable attributes associated with clinical competence. All but six behaviours were identified by both clinicians and academics, but there were discrepancies in the frequency of responses that suggested differing perceptions between the two panels of the importance of some attributes. Application of the binomial test (SPSS) indicated that the identified behaviours were a valid representation of competence as defined by the CSP/CPSM undergraduate curriculum framework. It was concluded that the behaviours provided a starting point for development of a clinical assessment instrument that could optimise the validity and reliability of clinical assessment decisions.
Citation
Physiotherapy, 87 (7): 341-350.
ae974a485f413a2113503eed53cd6c53
10.1016/S0031-9406(05)60866-8
Scopus Count
Collections